Para ler em português clique aqui.
Madonna, Éric Cantona and Paolla Oliveira are already in love. Get to know the Best European Destination. Check out the attractions that continue to have celebrities fall in love before you visit Lisbon.
After the Portuguese discovered the world, it is now time to have the world discover Portugal. Proof of this lies in the numerous awards that Portugal and its capital city and regions have received in the last few years. And adding on to this impressive list is Lisbon's most recent award "Best European Destination". A historical landmark that places the Portuguese capital in front of other cities such as Amsterdam, Barcelona, London, Paris, Rome or Venice.
With so many awards under its belt, it's safe to say that visiting Lisbon is a must. As such, even before you arrive, we will share with you the things you can do here and suggest a few of the best restaurants Lisbon has to offer.
So, where does this fame come from, which grows day by day?
If you haven't visited Lisbon for a while now or if this is your first time in the world capital of Fado music, you are in for a surprise. From culture to cuisine, jot down the suggestions made by those who live here and consider themselves truly in love with the city.
First of all, get your legs in gear to walk up and down, walk up again and down again. Lisbon is known as the City of Seven Hills. If you really want to get to know the more genuine quarters or the most emblematic monuments, then the best you can do is put on your trainers and walk each nook and cranny. But don't be put off — there are many alternatives around, with far less effort. The fastest routes are on the metro underground train but to appreciate the city's beauty your best bet is to travel by bus or use the recent Tuk Tuks — the famous rickshaws that are often used in Asia and which now seem to sprout like mushrooms.
How's your appetite doing?
Are you ready to try out the real cod and many other dishes you've never even heard of, much less contemplated eating? Well, since Lisbon is the capital city of a small country with huge cultural diversity, as it housed people from all sorts of places (Romans, Germanics, Muslims, etc…) the cuisine here is extremely rich and varied. As such, you will be able to find diversified dishes and tidbits in the best restaurants in Lisbon.
But where can I eat in Lisbon, after all?
In a country that boasts over 300 days of sunshine a year, a terrace isn't hard to come by. The city is filled with elegant open-air spaces where you can savour Portuguese dishes for lunch or dinner.
This summer the 31 d'Armada restaurant's terrace, a Portuguese cuisinerestaurant with a Mediterranean touch which is part of the city's historical legacy due to its architectural traits, is one of the excellent options you have to dive into the flavours of Portugal's various regions. This is the place where you will revel in delightful dishes and tidbits like the eggs withfarinheira spicy sausage and tomato, peixinhos da horta traditional green bean fritters, lamb chops with mint, asparagus and Arab rice, or even the famous roasted salt cod with collard greens and shallots, always paired with exceptional wines. After all, Portugal is also a land of good wine.
And since the city was born facing the Atlantic, fresh fish and seafood are also mandatory on the plate of any alfacinha — the regional name by which people from Lisbon are known. For this purpose we suggest you visit Aqui há Peixe or Mercado do Peixe. Just like 31 d'Armada, they are included in the list of good restaurants in Lisbon where quality comes in a full dish.
The attractions that conquered celebrities after a simple visit to Lisbon.
Once you've charged up your energy levels, it's now time to spend them. We invite you to discover the most typical streets, the most emblematic monuments, the most sought-after museums or the most charming alleyways where you will certainly find the city's true soul. Above all else, those who visit Lisbon acknowledge that this is a genuine place, far from prying eyes and especially safe. These are the main reasons that had the queen of pop, Madonna, former football player Éric Cantona and Brazilian actress pick our city as their official residence, among other celebrities. So, if you're visiting Lisbon, don't be surprised to find Madonna sitting at the table next to yours. Funnily enough, she lives close to 31 d'Armada restaurant. Don't be surprised either if you cross paths with Monica Bellucci out buying lettuce in one of the many typical grocery stores, or Éric Cantona having a hefty breakfast in Campo de Ourique. After all, the famous have always had impeccable taste!
But let's not get lost in our tracks, because there's still a lot to see in this place that combines tradition and modernity in a unique manner, and so we propose some more alternative programmes. In addition to the conventional visits to S. Jorge Castle, Belém Tower or Jerónimos Monastery — where a few kings and queens are buried, along with Luis de Camões and Fernando Pessoa, the great men behind our language — take note of what's new and trendy. 
Starting with art, did you know you can take guided tours of street art pieces?
From Marvila to Cais do Sodré you'll find a great adventure in discovering the most peculiar stories told on the walls of the various quarters, depicting the vision of some known artists, such as the Portuguese Vhils and Bordalo II. TheUnderdogs gallery is to us one of the most comprehensive guides on offer.Book your tour.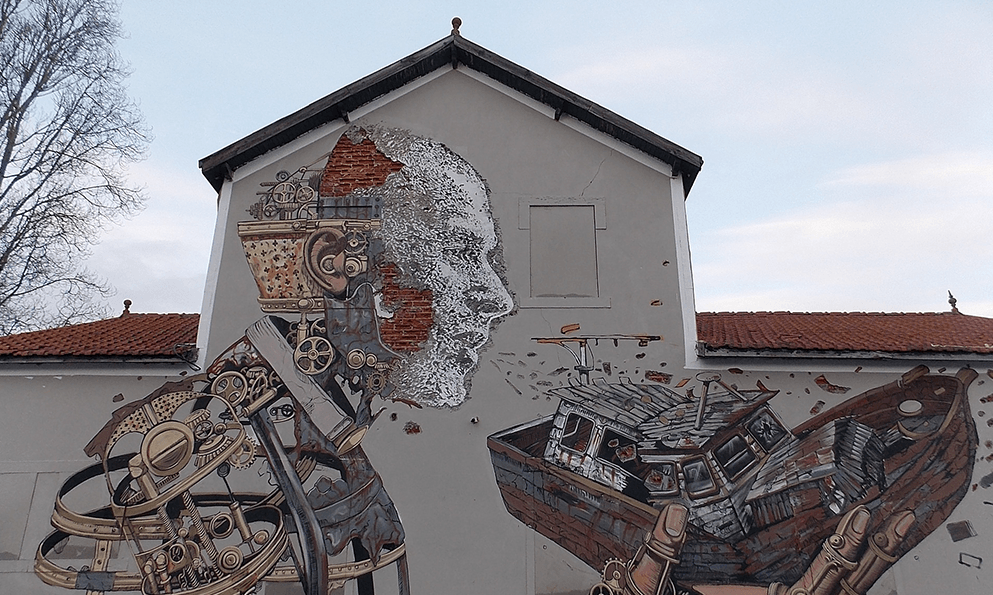 For a lighter programme with the kids, don't forget to pass by the Sweet Art Museum, a surreal project that is a true ode to happiness and selfies. Fun is guaranteed!
When it comes to music, and especially in the summer, open-air concerts abound, regardless of your musical taste. For instance, the already famous concerts and operas in the gardens at the Calouste Gulbenkian Foundation (6 to 28 July), the classic Festival Ao Largo, in the São Carlos National Theatre square (6 to 28 July) or even one of the most awaited annual gathering of rock bands, Super Bock Super Rock (19–21 july).
Yet this isn't all for Lisbon. As you can imagine, one article is nowhere near enough to share the tips and secrets of a city that charms poets, inspires composers and seduces even the most reluctant visitors. Lisbon really is a place that enthrals. Don't fight it! Visit Lisbon because Lisbon deserves it.
Have you been hit by Cupid's arrow yet?
Follow us every fortnight. It will be a pleasure to share our passions with you.
The team at 31
We are the team at 31 d'Armada restaurant and every couple of weeks we invite you to sit at our table, where we share with you what's new in the life of a city and country that continue to spread charm around.
Welcome to Lisbon. Welcome to Portugal.